Machine Class 221-19/2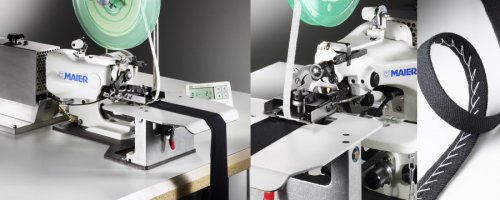 Blind stitch sewing machine for sewing of belt loops
Description:
High-performance blind stitch sewing machine for the fabrication of double-folded belt loops with inserted tape and loops for neckties.
The sewing machine is equipped with a front cutter which cuts any material remnants to the needed width for the folder integrated in the machine. The cutting device is equipped with carbide-tipped hook knives. Two upper feed dogs, one in front and one behind the needle, take care for a perfect feeding process.
The special folders for different belt loop widths and fabric thicknesses are available in the following dimensions:
Widths: 6, 5, 8, 10 and 12 mm
Diameters of folders: 0.5, 1.0, 1.5 and 2.0 mm
By means of a special rapid locking device the folders can be quickly exchanged within one belt loop width without any tool.
Technical Data:
| | |
| --- | --- |
| Stitch type | 103 |
| Stitchen per minute, up to | 2000 |
| Needle system | 251 |
| Stitch length mm | 3-8 |
| Hand-wheel diameter (effective) mm | 63 |
| Motor speed rpm. | 1400 |
| Motor v-belt pulley (effective diameter) mm | 90 |